[youtube id="nISym2J1_XA" width="670″ height="377″]
There are approximately 75km of single track around Melrose but many more in the districts of Jamestown, Laura, Wirrabarra and Wilmington. some of the tracks are built on private land but are freely available to the public. Nick Bowman and a Greencorp crew were the first to build the single track over the boiling hot summer of 2005. Loops such as Greener Pastures and Hellrose have become famous for their extreme amounts of fun and frivolity. Since then the crew at Over The Edge have marked out another 20km and a few have tasted the flavour of these trails like Throwing Copper, the Big Rhua and Dodging Bullets. The beauty of Melrose is that most of the tracks are accessible from your accommodation whether staying at the pub, cabins, or camping in Melrose or at the Showgrounds. No effort is required to pack up the car each time you want to go for a ride leaving much more time for riding and enjoying the bush. Some testimonials are out there.
Southern Flinders Rough Riders build trails that take people on bikes and foot into some truly special parts of this planet. We build trails that are spectacular and fun, and we build them to last. This is because our trail design incorporates a passionate love for nature, dirt, tranquility and adrenalin.
We are talking more intimate than simply hugging trees – it is about the sulphurous grinding of scree quartzite under your feet and tyres, the coughing of the wattlebird, the giant earthworms on the southern slopes, the cool shade of the massive red gums, and a refreshing dip in a spring-filled hidden oasis, and so much more… (Note: this might sound a little 'earthy' on the net but if you have been here you will know what we are talking about, and if you haven't, then come along and see for yourselves).
These trails are the result of collaboration between the Office for Recreation and Sport, Bicycle SA, Southern Flinders Ranges Development Board and Greening Australia. The goodwill of Don & Margaret McCallum, and Rob and Christine Smart and their family cannot be understated. Without their hospitality these trails would not exist.
Pop into Over the Edge Sports to grab a map and the latest info on new cool trails that haven't made it onto the map yet.. there are plenty!
Trail Grades
All our MTB trails use colour codes to tell you what to expect. The colours are based on IMBA international standards.
Green Circle
Wide single track (~1m)iIdeal for beginners and riders looking for an easy mountain biking experience.
Blue Square
More challenging rides for intermediate mountain bikers.
Black Diamond
For the experienced riders with the skills and experience to negotiate tough trails.
Double Black Diamond
For experienced riders with good mtb skills and experience and a general acknowledgement that they will not get it right every time, and that this usually results in some pain.
Mt Remarkable Trails
Bike Elysium! Trails right out of the town in the foothills of Mount Remarkable! There are some trails already famous like Greener Pastures and Hellrose with EDGE LOOP and Throwing Copper new connections for some. Riding mountain bikes on Don and Margaret McCallum's property is a privilege, so please treat the trail, livestock and environment with respect and care. Enjoy with a hint of adrenalin and a tincture of rosemary followed with a deep red Shiraz. Watch out for the kangaroos – they are numerous and have been know to hitch a ride..
Farmers' freewheelin fun track
This trail is your traditional farmers track for 4WD access and provides the main access to the trail network for cyclists and walkers. As the name suggests it is a very enjoyable, fast trail to ride down, but beware the trail surface is highly variable so check your speed.
Textbook 10%
Textbook 10% is the original mountain bike trail in the network and a great example of environmentally friendly trail design. It is an excellent way to warm up and get a feel for the area before hitting the serious black diamond terrain.
Benchin
A lengthy section of full bench trail riding bliss that will take you from one end to the network to the other. Get on board and ride to your heart's content.
A bit sheepish
This trail was designed by the local residents, Don McCallums sheep, hence the name. Thus it is a bit steeper than the other blue square trails so it is great on the way down.
Don's Summit
This trail spirals to the top of one of the prominent hills in the network, which provides great views over Melrose . Rocks a plenty to test your riding abilities.
Silo Loop
Get out on the plains and stretch the legs while gaining some lovely views back towards Mt Remarkable. This loop of 32km will give a wholesome taste of Mawson Trail riding without having to leave town.
Hellrose
Fast, furious and truly exhilarating. This trail provides a XC ride that will make you feel like a free rider with big jumps and berns to get the adrenalin flowing. It starts with a very technical climb then you can descend into Hellrose.
Out the Back
Some serious XC trail that brings you back out into Hellrose so you can do it all over again if you want to. Get ready for some tight corners and grunting climbs.
On A Bender
If you like your XC really technical then you are going to love this trail. Switchbacks, rocks and serious obstacles to test your limits to the max. If you get the chance, check out the views and cave on your left as you traverse the trail above Melrose .
Greener Pastures
Hold on for the ride of the day as you drop back towards Melrose in what can only be explained as a blast of downhill riding that only the Southern Flinders Ranges can provide. Gnarly rock chutes, fast jumps, dirty half pipes action with a wall ride exit followed by some old school creek riding over rocks and logs. The final obstacle is a real killer so be confident. It's not as hard as it looks.
Weaving camels
A creekside ramble through the Mount Creek past and under Eucalyptus cameldulensis (red gums – the camels). Take a picnic out to the redgum table at the end just before the Mt Remarkable Copper Mine (the other one).
The Big Rhua
Gives a sneek peak of Hidden Valley past the bones of a big red macropod that didn't make it out alive. A bit of tree-whippin' and stump jumping.
Bear Pit
The pit is real and is similar to that found in the city of Bern in Switzerland. The story is that Bern was originally founded by a German Duke in 1191. When it came to finding a name for it, however, he was at somewhat of a loss. According to the legends of the city, he decided then to leave it to chance. He organized a hunting party and decreed that the first animal they killed would lend its name to this new city he had founded. That animal was a bear (Bern). Since the 16th century, the city has had a bear pit (or Bärengraben). The pits here in Melrose were used for sawing logs and this is where the term 'underdog' comes from – that was the guy at the bottom of the 2-person cross cut saw eating sawdust… Not sure what any of this has to do with bears..
Hidden Valley
Now this place is special. You enter from the Picadilly Circus junction, cross the road and wind your way up over the old burnt log, working pretty hard and then you are on top of the world and heading down the hill past the jack rabbit hole and blasting through the scree, over the big log, over the ball bearings, around the big red gum, down the sketchy face back in the valley and past the big red's bones. The finale is under a massive red camel looking out over the Willochra Plains before it intersects with the big Rhua again. This one is tough, with fine lines but it is very special. Stop for a picnic near the scree with some quondong leather, chocolate and red wine.
EDGE LOOP
The EDGE LOOP is in capital letters because it is EDGY and traverses a few rock garden edges at the native hibiscus outcrop. There are some pointy narguns and a few drops and it gets a wee biit slippy when we see moisture (rare these days). It starts and finishes at Picadilly Circus. Short but sweet and tends to go past bemused wallaroos, or euros to the locals. Can decide to opt out at the bottom and head back via The Big Rhua or Bear Pit to Weaving Camels. Alternatively, head into the Hidden Valley or grunt up Blazing Saddles and down Throwing Copper for a big adrenaline finish catching the cool air at the bottom of FFFT.
Blazing Saddles
Takes in the speccy lookout on bald hill (Maol Ban) with great views of the Willochra Plains, Mt Remarkable, Cathedral Rock and The Creagach. If you don't know what the Creagach is you'll have to head up there for a look – (hint: it is south of Cathedral Rock). Goes over a big dead gum which looks sketchy but it not as bad as it looks. runs past the mines, rock gardens, rabbit warrens and back up the road to Throwing Copper. This one is all natural and full of fibre, solar powered and just good for the soul – hurts a bit though, at times.
Throwing Copper
You can hum Lightning Crashes or even The Dam at Otter Creek if you like but hang on for some rapid fine lines and a lightning weaving finish through the mounded corrie below the copper mine. You will do this one faster and faster over time. Continue on down FFFT jump at the bottom and blast through the creek before coffee or beer or just do it all again or head North to Dodging Bullets.
Dodging Bullets
This baby starts just through the monument gate and turn right and then you are off through the hops and quandongs and christmas bushes, past a neolithic cave with a scary drop (stay on line here or die), out of the brush and over the creek and down a run that has some interesting features. Between trees, down logs and then over the fence and you are into a WWII rifle range with signs of yesteryear around. Enjoy the view from the top at the big sawpit and then thrash down the wooded gully and then down another gully (air to be had). Then it is the finale smashing down and weaving the final gully, up and jumping the dry dam bank and through the ruin, past the dog pound and back to Melrose or down to the Showground loop. It is rough so take it easy the first time or use a Delirium-T
Showgrounds Loop
A great family cruise around the periphery of this 100 acre patch of gums and gullies. Follows the old golf course and gives nice views again over to Coomoroo Hill. Great picnic spot. The kids will love spending hours playing in the creek and climbing trees. Lots of laughing kookaburras haunting the dusk air. The ride along the Mount Creek back to Melrose keeps it off the "busy" bitumen road so you can send the kids down there for a ride while you hang out in the coffee shop, pub, bike shop or your accommodation. It just doesn't get much better than this..
Yellow Loop
This is a challenging easy loop, enthusiasts will knock it over in 20 – 30mins. Textbook 10% and Benchin will provide some nice flowing trail Dons Summit, Farmers Free Wheelin Fun and the Memorial Trail offer challenging rocky climbs. A bit of everything that is a good introduction to the Melrose trails.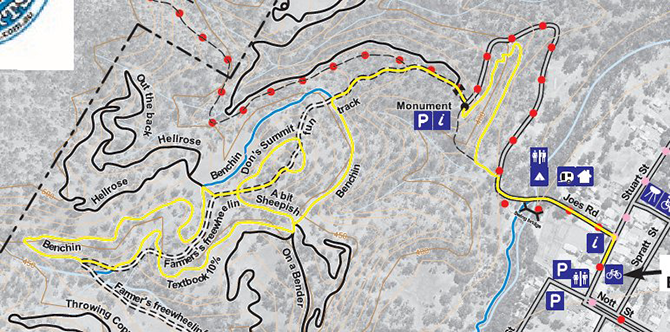 Purple Loop
Connecting the Northern trails this is a fast flowing ride with a few jumps, berms and technical features to keep you on your toes, this is mainly a black diamond loop that does offer B lines on most features. At speed this can be a technical adrenaline rush!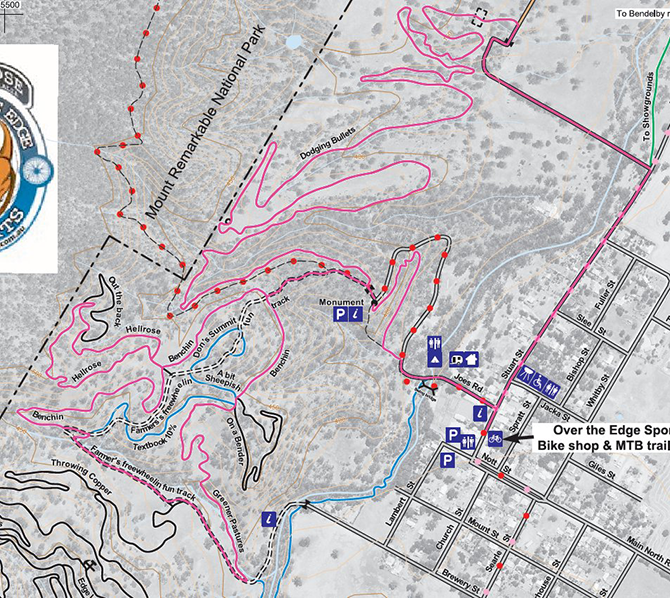 Orange Loop
From South to North covering the whole trail network in Melrose bar a select few. This is a loop that involves no backtracking, covers over 400m of vertical climb but still manages to feel fast and flowing.